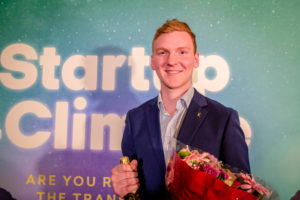 I must start off with the classic sports question. How does it feel?
Jonatan: It feels amazing. Especially since it is this challenge where many of the finalists are big tech companies that I have been looking up to for many years. It is a great feeling.
You were only 16 years old when you had the idea for your innovation, tell us about that.
J: I come from Halmstad, a city in Sweden that has experienced plenty of water shortages. During high school, I started to think about new and improved ways of purifying the water that we had. I had around nine bad ideas before I thought of a slightly better one. Since then, my entrepreneurial journey has taken on several forms, but for the last three years I have had my limited company through which I can realise my dream.
But how does one enter the world of water purification while others are trying to become influencers?
J: I have always been interested in the environment and technology. I have also always enjoyed experimenting and innovating in my dad's shed and in the lab at school.
How is this win going to change your day-to-day life?
J: The water treatment plants we build are the size of containers and stainless-steel heat exchangers and pumps are not cheap. So, this financial addition is going to allow us to start construction of a brand-new facility as soon as possible. We are hoping to have the blueprints ready by the end of the week.
Visualising the future of Helios Innovations, where do you see yourselves in ten years?
J: We are currently working in waste management, but I believe our potential is much bigger than that. We can become relevant in all kinds of industries, from car or fertiliser production to food industries. I believe we have the ability to change not only waste management practises, but the evaporation industry as a whole on a global scale. It might take slightly longer than ten years though, I must add.
Do you have any role models?
J: There are many to choose from, but not those hyped up tech CEO: s who raise incredible amounts of capital and make their companies grow. I look to old fashioned engineers and company creators who have built the welfare we enjoy in Sweden and many parts of the west. People like Gustaf de Laval who built a company that is still around 200 years later, where everything is based on solid and simple technology.
What do you think your high school teachers will say about your achievements?
J: You would have to ask them that, but I hope they are happy.
 Is there anything you've been thinking about during this pricess that you would like to add?
J: It would have to be to give an answer to the question I get in all interviews. How can you do something like this when you are still so young and where do you find the courage to take the leap? And the simple answer is that it is not as difficult as one might think. If you just find the courage to start trying you will eventually succeed. It usually takes a bit longer than you think and it costs a little bit more, but if you keep at it, you will achieve your goal.